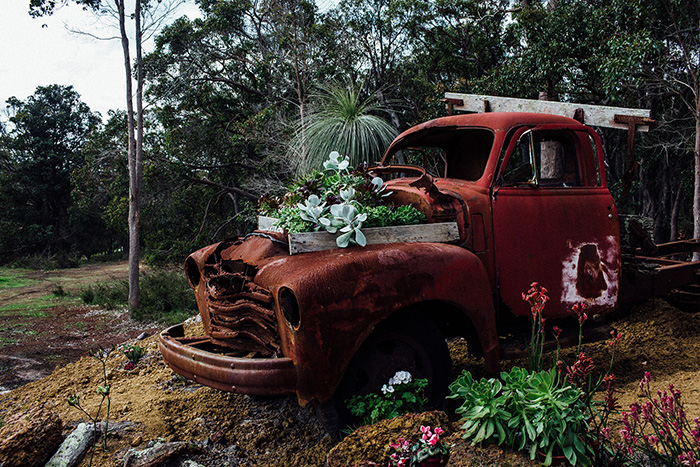 With views overlooking the mighty Kalgan River and the Porongerup Ranges painting a picturesque backdrop, The Shed at Deep Creek is a truly unique venue built by Lee-Anne and David Sugg. Their paths led them to work in the wedding industry as a result of their daughter Ebony's (one half of the talented photography duo: Ben & Ebony) lifelong love of food and fellowship.
In February 2015, Ebony Rose, the youngest of Lee-Anne and David's children got engaged to Ben Staer and announced that she would like her father to build a shed which could accommodate 200 guests for their special day. This sparked the beginning of what would be an amazing three-month journey in which determined Dave constructed the perfect venue for his daughter's wedding.
Being a busy year, construction didn't begin until the July of 2015 and involved carting over 400 truckloads of sand and gravel to create the pad for the building. The exciting part of the project came with selecting the four logs that would act as the central beams for the shed and were all found on the Sugg's farm. It only took Dave two days to have them all standing and before long, the structure started to take shape around them with tin sourced from a replaced roof by Lee-Anne's brother.
Over these three months, the construction of The Shed at Deep Creek became a testament to a father's love, with the help of family and friends making this charming venue come to life. With only two days before the big celebration, Dave also built the wedding bower and seating overlooking the river, completing the project with the bespoke character details that were present throughout the entirety of the building.
When the wedding day arrived, guests were blessed with clear skies as family and friends gathered to celebrate marriage, love and family. In honour of what was a truly special family undertaking, guests enjoyed an incredible meal served by none other than Lee-Anne's catering business The Wandering Kitchen.
Since its completion in September 2015, the Shed at Deep Creek has hosted four weddings and several other events and is fast becoming a popular wedding venue for couples in the region. Lee-Anne and David feel constantly inspired by the beauty of creation all around them and feel honoured to witness others enjoying their beautiful Shed. They believe their venue is special, not only because of its location and breath-taking views, but because of the love and devotion that went into its creation.
Visit The Shed at Deep Creek.  Images Ben & Ebony