Modern marriage celebrant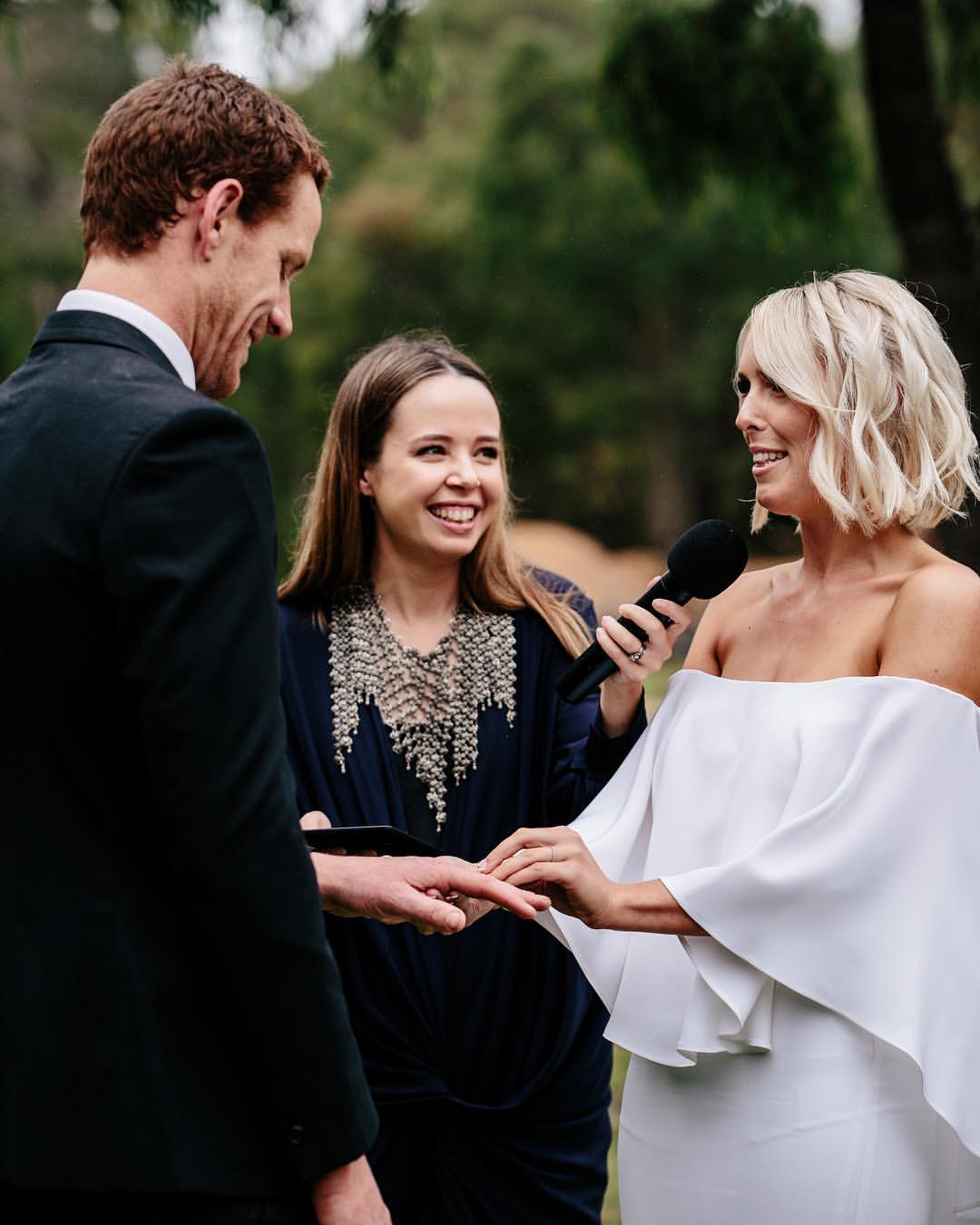 images:  Lee Griffith Photography
TESTIMONIAL
Dearest Sarah,
Sarah Thompson, celebrant extraordinaire. From Albany, you sent us mail to Perth, later caught us for a meeting in Alice Springs and ultimately travelled over 10 hours to Kalbarri for our wedding ceremony. Are there any lengths you won't go to, to make a couple's ceremony perfect?
We can't even begin to thank you enough for making the best day of our lives as special as it was! The heartfelt ceremony you created was our favourite part of what was a completely magical day. So many of our guests told us later that they were in awe of the words you put together for us.
'She spoke so beautifully; she should be on TV!' – A close friend.
'I was just hooked the whole time!' – A male guest.
'That was the best ceremony I have ever been lucky enough to witness.' – Everyone, seriously.
And we couldn't agree with them more.
To have our story told by you to our loved ones in such an engaging, personal, and touching way, meant the world to us. The ceremony truly reflected us as a couple, was funny, interesting and sentimental, with nothing that didn't reflect our values. It made us laugh, cry and everything in between. No matter the nerves, once we were both standing there together and you started talking, everything felt so relaxed and flowed seamlessly and effortlessly.
The love and passion you have for what you do was so evident in the process and the outcome. You made the whole lead up, working towards our big day, a dream. We loved the questions you asked us to help write the ceremony. It was a truly meaningful experience for us as a couple to reflect together on why we wanted to get married, what it meant to us and how we wanted our story told. The way you managed to weave our rambling words into something that not only made sense, but was also thoughtful and engaging was nothing short of magic. We couldn't have dreamt up anything more beautiful.
Of all the elements of the wedding day, I cared most about, yet was least worried about the ceremony. Since the day I asked you to be our celebrant, I knew that part was sorted. I trusted you to put your heart and soul into making it meaningful for us and that's exactly what you did. For that, I will be forever grateful. We so appreciated the guidance, ideas and advice you gave us, from including our Mums in the ceremony, giving us a starting point for vows to the endless reading inspiration.
We will both be singing your praises from here on out, to anyone who will listen and will be highly recommending you to anyone in need of a kind, warm, exceptional celebrant with a love for what she does and who will go above and beyond to create a ceremony that is unique, engaging and perfect just for them.
Thanks to you, the memory of our ceremony will always make me well up with tears and smile at the same time. And I know those memories will last forever.
Sincerely,
The Very Happily Married (thanks to you) Arnolds.