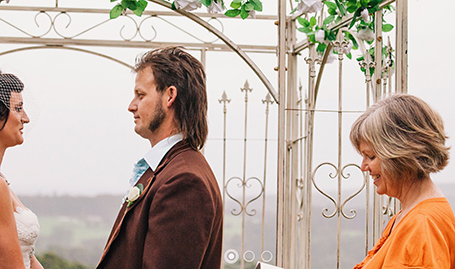 I write a bespoke ceremony, just for you and the one you love.  I ask you both for information about how you met, what it is you love and admire in each other and why it it that person, and no other, you wish to spend the rest of your life with. I encourage you to write your own vows to accompany the legal vows, as the vows are where you make the promises to each other and are really the heart of the ceremony.
I welcome the inclusion of other family members or friends into the ceremony, through readings or rituals, but am also completely happy to write a simple 'no-frills' ceremony which I conduct alone.
After the Notice of Intended Marriage is given, and I receive the information I have asked for, I draft it a ceremony including all the legal bits which have to be said and done for you to be legally married. We then email the draft back and forth to each other a couple of times until you are totally happy with it. If necessary we meet again at this stage to discuss the ceremony further.
For the wedding day I make a booklet of the ceremony, which I leave with you afterwards. I see the booklet as becoming quite a precious family document, and like to imagine that one day in the future children, grandchildren or other younger relatives will say 'oh, isn't it lovely to know why Grandpa loved Grandma' or 'I had no idea that was how they met – how romantic/lucky/funny!'
Marriage is th willing commitment to a shared life made by two people who love each other.  I take the role of celebrant very seriously, and love helping people to create the marriage ceremony they imagine. I look forward to the day when any two people who love each other can be married.