Katie J White offers her sensational vocals, award winning songs, and a cover list everyone loves. Katie unfailingly brings warmth, professionalism and the highest quality music to your wedding day.  Clients are welcome to select a favourite song to be featured on the day.
Originally from a very small town, Denmark, in WA, singer, songwriter, guitarist and bass player, 25-year-old Katie J White has taken her music as far as London and she has played literally hundreds of venues across Australia from Broome to the Sunshine Coast. Her career began at age 14 when she supported The Waifs in front of thousands of people.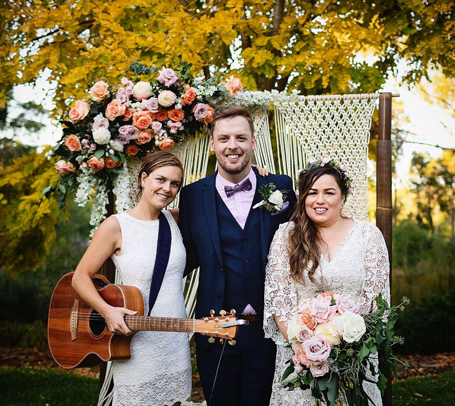 KATIE J WHITE WEDDING MUSIC PRICING   |   SONG LIST 2019
Katie took out the 2016 West Australian Music Industry (WAMI b) Song Of The Year Award for the Blues and Roots category with her song 'River'. 'Warrior', another track of her EP, was also nominated that year, following a double nomination in 2015 with her song 'Gypsy'. This makes three out of five tracks on her third EP WAMnominated.
In 2018 Katie completed a national tour which included 60 gigs in 6 months across Australia. A highlight of this trip was working with Eskimo Joe's Joel Quartermainin Melbourne. "He produced 2 singles of mine and made them into something that belongs on international radio! They are so polished and sound incredible, to be released soon."said Katie.Katie's prides herself on the depth of her poetic original songs. They unfailingly take the listener on a moving journey led by her astounding vocals. Her sheer honesty and ability to tell a tail so richly within 3-5 minutes is something very unique. She exposes herself and most tragic times of life in songs like 'Daddy in the Sky', and shares the challenges of living in London at age 19 in songs like 'Gypsy'. Then there's the all heart and soul songs like "Home' which dive into unconditional love and devotion. There is something that will touch every listener across Katie's original song collection, and her unforgettable voice will stay with you long after the gig is over.
""As a special surprise for my husband who is a musician himself, I booked the beautiful Katie J White to come and sing some live music for us at our intimate wedding in Margaret River. As soon as we walked into the reception and heard Katie's ethereal voice, we both became so emotional. It was the perfect wedding gift for my husband, and a special treat for our guests as well. Everybody couldn't believe just how stunning her voice was." Laura Glenn. Married on 9.2.19"
"We cannot thank you enough Katie J – you made our day. Playing as I walked down the aisle and through cocktail hour and dinner – it added to the atmosphere like we couldn't have imagined. Your voice is incredible and the songs you've curated fit our vibe better than if we had picked them ourselves. We so appreciated having you there. We had so many people approach us after the wedding to say how much they enjoyed your performances as well! A huge thank you. Couldn't recommend enough." Cat and Ben