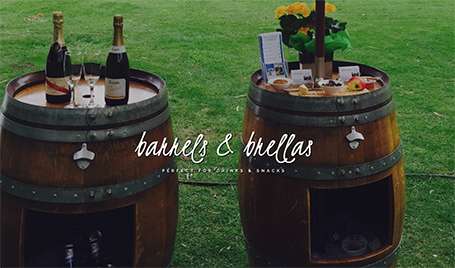 Every summer event you have needs shade and what better way to have shade then in an iconic wine barrel filled with ice and refreshments.
Ceremony at the beach, Beach party, Wedding, Birthday Party, Festival these gorgeous barrels are suitable for every occasion.
Also available ceremony canopy, benches and stools, signing table, wedding this way signs, Chalk board and flag Tepee.
When you picture a beach wedding, chances are you're dreaming of the soft sand, cool ocean breeze and gorgeous sunset in the distance. But don't forget about your guests waiting for you. Are they sweltering in the heat, have you provided cool water for them, is the sand boiling hot? We can solve that for you with a simple set up that manages to frame your area keeping prying eyes out of your special area.
Why not bring your little bit of the wine region to your beach or bush gathering.